It's another happy Friday and we are all together again, sharing and chattering about our favorite self-sufficient things! Today I'd like to chat a little bit about a skill that might seem like a lost art; hand washing your clothes!
But isn't washing laundry by hand a bit outdated?
Washing your laundry by hand isn't the kind of chore a lot of people are volunteering to do everyday. Though, I will have to admit that it's a chore I do actually enjoy! Despite the simple pleasure that I find in doing my laundry similar to how the pioneers might have done theirs, it's also a skill that makes me more independent. If something were to happen and I didn't have access to a washing machine or even electricity or a generator to run a washing machine, I could still keep my clothes clean – a skill that might be easily overlooked when planning for disaster scenario.
Washing laundry by hand is actually pretty easy with a few basic tools. You can read about the handful of tools that I consider my "must haves" in this recent post on the right tools for hand washing and getting clothes clean.
And don't stop at learning how to wash your clothes without a machine; be sure you're familiar with line-drying your laundry too. Despite a common misconception, you can line dry your clothing year round, even in outside in temperatures well below zero. I know because I do it all the time. But if you're not keen to drying outside, or prefer to dry your clothes indoors in the colder months, be sure to give my article on making your own laundry line and line drying indoors a read.
Do you have any tips or suggestions for learning to hand wash your laundry? I'd love to hear them in the comments!
Before you go, be sure to linkup your best homestead or homestead inspired posts and visit some of the links that others have left. You never know what you might find! And don't forget to enter this other great giveaway I have going on! It's for a custom embroidered tote bag – great for carrying your produce from the market to can at your house!

If you've been picked as a favorite in the past, or you get chosen in the future, make sure to come back & grab your button to display proudly! Keep scrolling to enter this week's party!
Now, on to this week's party: 1. Link up to three of your best gardening or homesteading tips, farm-themed posts, recipes, homemaking and simple/frugal living tips, decorating ideas, DIY projects, craft ideas, thrifty makeovers or repurposed items, healthy and sustainable living tips, and giveaways. 2. Link back to my blog (using the rel="nofollow" tag), or put the link party button anywhere on your blog or post to share the love. 3. Make sure to check out some of the other links before leaving.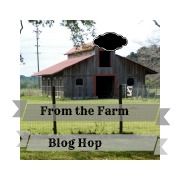 We can't wait to see what you share with us!
Note: Linking up to this party will automatically sign you up for an invite to next week's party via email. To unsubscribe, please reply to any email you receive and you will be removed. Linking up also allows us permission to publish one of your photos on our blogs, Facebook, and/or Pinterest pages.
Warmly, Your From the Farm Blog Hop Co-Hosts:
The Homesteading Hippy
|
Sunny Simple Life
|
The Mind to Homestead
My Healthy Green Family
|
Spring Mountain Living
|
Timber Creek Farm
Happy Days Farm
|
Better Hens and Gardens
|
Homestead Lady
Now on to the linkup!